Refrigerator Repair Lake Charles LA
Servicing Lake Charles and all surrounding areas
Is Your Refrigerator Broken, Not Cooling And You Need Refrigerator Repair Services? AppliancePro Technicians Service Most Refrigerator Makes & Models.
The #1 Reason Refrigerators Stop Cooling:
A clogged, dirty evaporator coil is the #1 reason refrigerators stop cooling. This causes your refrigerator to not cool or produce ice.
Most of us do not know how a refrigerator works so we don't know what causes them to break down and need repair services . Most people think their refrigerator is either broken or just needs to be defrosted. The fact is, most refrigerators will continue running even if they are not cooling properly as long as the temperature inside stays below 40 degrees. This is why it's important to get a professional to diagnose and repair your refrigerator so that you can save money by reducing energy usage.
Clogged or Dirty Condenser Coil
A clogged, dirty condenser coil prevents your refrigerator from cooling properly. It's important to understand what causes a clog and how you can prevent it. The condenser coils are located on the outside of your unit and they bring in fresh air to cool down inside your fridge . This is accomplished by using a fan, and if the coils are dirty or clogged there's not enough air flow to lower the temperature inside your refrigerator.
The #2 Reason Refrigerators Stop Cooling:
A bad defrost control thermostat causes refrigerators not to cool and produce ice. The defrost timer is what tells your refrigerator when it needs to defrost or when it needs to kick on. If the defrost timer is broken, then your refrigerator will not run properly and produce ice.
This kind of repair job requires a professional because you have to remove the entire panel in order to access the control board. The most common problem with this type of part is that it stops sending voltage to the defrost heater, which is located in the back of your refrigerator.
This type of part is very inexpensive and easy for a technician to change out.
The #3 Reason Refrigerators Stop Cooling:
A bad control board or main board in your refrigerator can also cause problems with the unit not producing ice, or if you notice that it's not cooling properly inside. When you have this kind of problem, the refrigerator will need to be serviced by a professional who can remove the panel on the front of your fridge and replace or service the control thermostat.
If water leaks into your appliance from melted ice cubes than maybe you need a repairman. Dehumidifier is designed to get rid of excess moisture in large rooms which are caused due to high humidity levels caused by central air conditioning system. Repairing a Refrigerator:
Refrigerator defrost systems are designed to operate under specific conditions; if these conditions change, then the refrigerator may not be able to produce ice or properly cool . If you notice that your refrigerator is not producing adequate amounts of ice than it's possible that the defrost timer on one end of the control panel is stuck in the "on" position and needs to be replaced. This part is usually very inexpensive and can be easily changed by anyone with basic DIY skills.
If you are in need of a refrigerator repair company contact AppliancePro today at (337) 313-2066 and one of our representatives will assist you with placing an order for same day service . We provide refrigerator repair services to the following louisiana locations: Lake Charles, Sulphur, Moss Bluff, Carlyss, Grand Lake, Kinder, Iowa, DeQuincy, DeRidder.
Here is a resource for refrigerator repair should you have questions.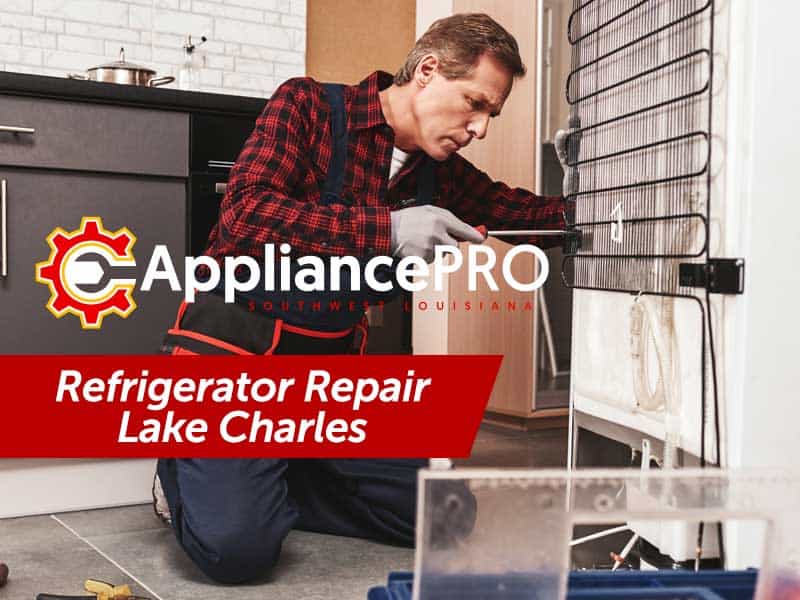 NOTICE BEFORE YOU SCHEDULE:
Due to the unpredictable nature of repair(s). Service Calls are scheduled for either BEFORE NOON (Choose 8am for 8am to 11:59am) or AFTER NOON (Choose 12pm for 12:00pm to 5:30pm).